Discover more from Persons Unknown
Where readers and viewers find well-researched, thought-provoking real crime and case histories – in books, TV and podcasts…
The Long Shadow – serious and powerful true-crime drama
In the late 1970s, the North of England was terrorised by one man's murder campaign. A new ITV drama depicts the human grief behind the headlines, while sidelining our usual obsession with the killer
ITV's searing new drama The Long Shadow looks at how one man's depraved murder campaign in late 1970s' Britain devastated so many lives.
Just don't mention the murderer's well-known nickname. The makers of this moving seven-part series are keenly aware how offensive this snappy media moniker is to the families of the victims and survivors.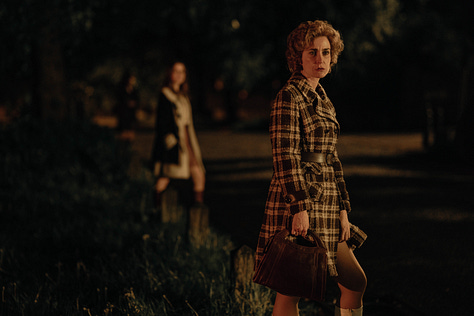 Even today, those affected find mention of this soubriquet to be distressing and triggering, the programme makers remind us.
It's a lesson they acknowledged only having learned recently themselves.
Discarding the serial killer's 'dark brand'
Series writer George Kay, who has done an extraordinary job on this series, said, 'We started by calling it The Yorkshire Ripper, and we announced it. But at the beginning, we hadn't learned that the name people used to describe Peter Sutcliffe was disrespectful in many ways, especially to the victims' families, who certainly don't like that name being applied.
'It creates a sort of dark brand around a man who doesn't deserve that sort of attention. That was one of our lessons.
'So because of that, the title changed from The Yorkshire Ripper – it was a working title, but that's what it was intended to be at the time – to The Long Shadow, which is more in tune with the story we're trying to tell.'
The fallout from the crimes are the focus here. And they have continued long after Peter Sutcliffe was arrested in January 1981. That is the long shadow.
Wilma McCann, Emily Jackson and Marcella Claxton
I attended the press screening of the series and was absorbed by the skill of its writing, the extraordinary performances and attention to detail. But be prepared – it packs an emotional punch.
The first two episodes focus on three victims – Wilma McCann, Emily Jackson and Marcella Claxton, the latter of whom survived her attack.
Wilma is found on a field near her home. DCS Dennis Hoban, played by Toby Jones, realises the public is often not that sympathetic towards victims who are sex workers and decides to emphasise her role as a mother of four in a bid to motivate witnesses to come forward.
The episode carefully recreates the press portrait of these little orphans that Hoban arranged to be taken to gain public support and hopefully some leads, the standout moment from the opening instalment.
Katherine Kelly, Jill Halfpenny and Daniel Mays
Katherine Kelly and Daniel Mays as Emily Jackson and her husband Sydney are hugely affecting. An opening newsreel montage of industrial strife and warnings of revolution establishes the era of joblessness and economic woe that formed the backdrop to these crimes.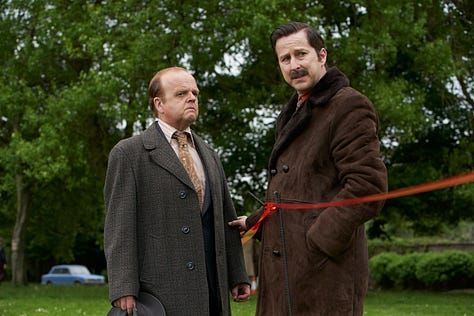 Emily and Sydney are victims of this, struggling with the grief of having lost a son and the weight of debt and final demands. With Christmas approaching, Emily proposes she becomes one of the many local sex workers to tide them over, and Sydney reluctantly goes along with her.
The pathos of his interview with police following the discovery of her body – and the brilliance of Daniel Mays' performance – will bring a lump to many throats.
This is how a quality drama can succeed where a documentary or non-fiction book may fall short. When done this well it can take us beyond the facts and into the emotional truth of these events.
In my previous post, I looked at the criticisms some observers make about the salaciousness of many true-crime dramas. The Long Shadow exemplifies how the genre, when aiming for something more than exploitation, can be thought-provoking and vital.
Katherine Kelly told the screening audience that she believed in the integrity of script and direction, as well as the four years of research that had gone into the series.
'I do trust in this team and feel privileged to be a part of it,' she said. 'And the responsibility, when you are playing somebody – I'm wary of using the word character because she existed – the responsibility is not something that I take lightly. I know nobody takes it lightly. I always have to walk with the fact that one day I may be confronted by one of her friends, family members, and I have to look them in the eye and I'm answerable to that.'
Part of the research included speaking to the family of Jacqueline Hill, the 20-year-old Leeds University student who was murdered in November 1980. The crime caused a storm of outrage and protest, caused by five years of frustration at the failure of police to apprehend this depraved murderer.
It is also prompted Jacqueline's mother, Doreen, to make a brave television appeal to 'people everywhere' to help find the perpetrator.
In the series, Jill Halfpenny plays Doreen, who is 90 years old today. The actor said, 'We did receive a lovely email from the family after they'd watched the show to say that they felt pleased they'd been listened to and represented in a way that they would've liked. So that meant a lot to us.'
Police politics and mistakes
George Kay, whose credits include Litvinenko and Lupin, told assembled media folk at the screening, that in crime dramas, usually when the police leave the room, the cameras follow them. Here he wanted to show what was left behind.
That's not to say the investigation, which was flawed and dysfunctional, does not feature. An interesting side plot is the politics of Leeds police at the time. Hoban, who proved to be somewhat ahead of his time in his emphasis on Wilma McCann's status as a person who was more than the label 'prostitute', is soon shunted aside to make way for DCS George Oldfield.
Oldfield virtually worked himself into an early grave in his efforts to unmask the killer. However, his tendency to view the investigation as a personal dual between himself and the murderer perhaps led him to make some major mistakes on behalf of Leeds CID.
George Kay and director Lewis Arnold also tap into the contemporary echoes between the late 1970s and now.
Sarah Everard and Reclaim the Night
Having recently directed two excellent but dark true-crime series, Sherwood and Des, Arnold said he was looking forward to working on something 'lighter and brighter'.
However, as he read The Long Shadow scripts, the Sarah Everard protests were unfolding and he could see the parallels.
Indeed, Kay emphasised the point during scenes recreating the original Reclaim the Night protests in Leeds by including placards that featured in both those protests and the Clapham Common gatherings for Everard, who was murdered by an off-duty policeman in 2021.
This was, Kay said, to underline the lack of change since the 1977 marchers carried placards demanding 'No Curfews on Women'.
ITV have assembled a terrific cast, which also includes David Morrissey, Lee Ingleby and Jasmine Lee-Jones.
They, and the production team, all appear to have brought their A game to this serious, compassionate drama.
See The Long Shadow on ITV1 in the UK: Monday 25 September 9pm
Thanks for reading Persons Unknown! Subscribe for free to receive new posts and support my work.